Discover the Gardeon Swing Chair Egg Hammock With Stand - Perfect Outdoor Furniture Wicker Seat in Black!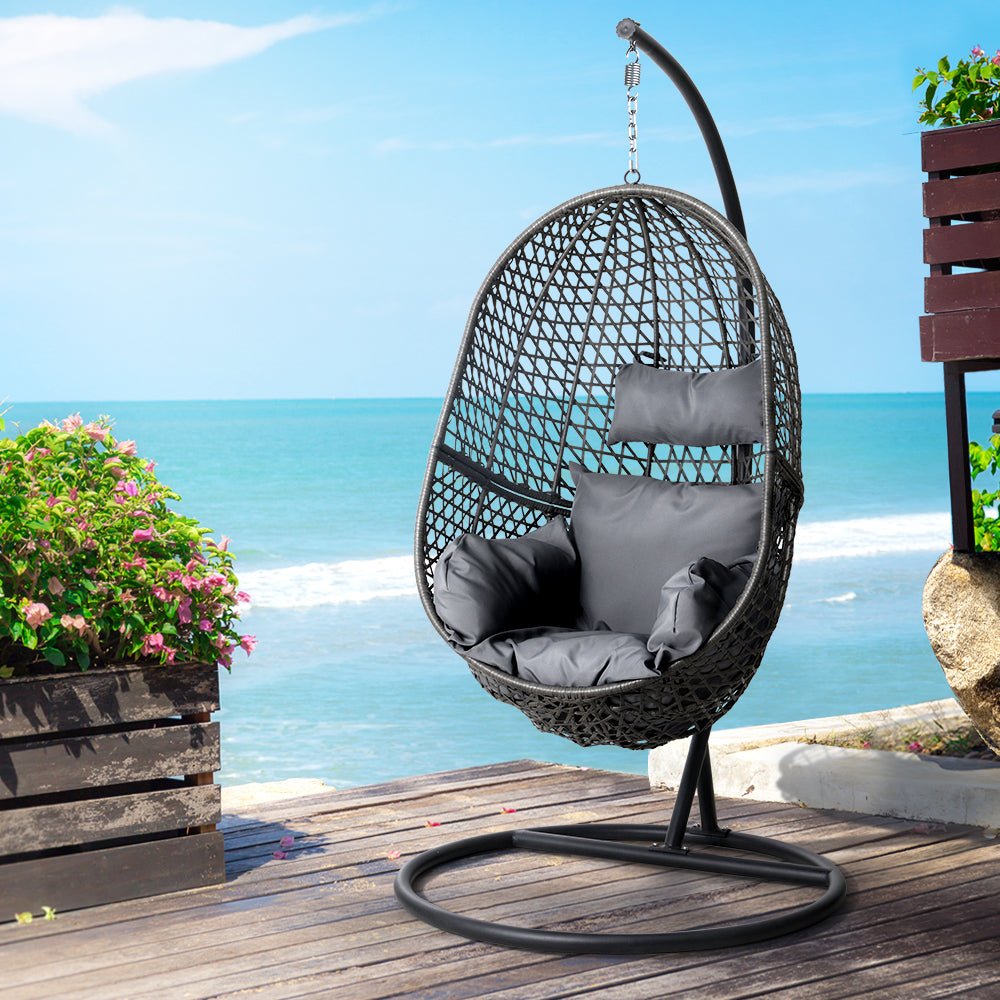 Introduction: Are you in search of the ultimate relaxation experience for your outdoor or indoor space? Look no further because Outdoor Immersion has just what you need! Our Gardeon Hanging Swing Chair with Stand is in high demand and here to transform your leisure time into a serene and comfortable escape. Although we don't make the furniture, we're proud to ship this incredible piece straight to your doorstep, ensuring you enjoy moments of pure tranquillity. In this blog, we'll delve into the exceptional features and benefits of the Gardeon Hanging Swing Chair, giving you every reason to indulge in ultimate relaxation.
A Seat of Serenity: Imagine yourself swaying gently in the breeze, book in hand, and the sun warming your skin. Our Gardeon Hanging Swing Chair offers not just a seat but an experience – a place of peace and satisfaction.
Key Features:
1. Stunning Design: This swing chair boasts a remarkable 100% handcrafted design, a true masterpiece that adds a touch of minimalist boho chic to any setting, be it your living room, garden, or poolside. It's a piece of art that enhances the atmosphere wherever it's placed.
2. Durability Beyond Compare: Constructed with a powder-coated steel frame, this chair guarantees rust resistance and robustness. The resin wicker material further enhances its durability, making it suitable for both indoor and outdoor use.
3. Comfort and Convenience: With a removable cushion featuring a polyester zipper cover, the Gardeon swing chair provides luxurious seating and is easy to maintain. Effortless comfort and style go hand in hand.
4. Easy Assembly: Worried about complicated setup? Don't be! This swing chair is designed for easy assembly, ensuring you can start enjoying it with minimal hassle.
5. 360-Degree Freedom: Whether you want to change your perspective or follow the sun's path throughout the day, the 360-degree rotation feature of this swing chair allows for maximum flexibility. It's the ideal spot for a quick nap or simply unwinding in style.
Specifications:
Frame: Powder-coated finished steel
Frame size: 105 cm x 195 cm
Hammock material: Resin wicker
Weight capacity: 150 kg
Colour: Black
Assembly required: Yes
Packaged items: 2
Product Contents:
1 x Hanging chair
1 x Hammock stand
1 x Large Cushion
1 x Pillow
1 x Chain
1 x Hook
1 x User Manual
Conclusion: The Gardeon Hanging Swing Chair with Stand, now available through Outdoor Immersion, is more than just a piece of furniture; it's an invitation to a world of comfort and relaxation. With its captivating design, strength, and straightforward assembly, this swing chair is a remarkable addition to any space, whether it's indoors or outdoors. So why wait? Elevate your relaxation game today with our Gardeon swing chair. Place your order now, and let us take care of the shipping, so you can enjoy moments of peace and satisfaction without delay!
Share the Inspiration!
As you've discovered the art of relaxation and outdoor living with our Gardeon Swing Chair Egg Hammock With Stand, we invite you to share this newfound inspiration with your friends and family. Connect with us on your favourite social media platforms and spread the joy of unwinding in style.
Facebook: Share the love for outdoor living on Facebook with a single click. Let your friends discover the perfect outdoor furniture wicker seat in black!
Instagram: Snap a photo of your own Gardeon Swing Chair and tag us on Instagram. We'd love to see how you've incorporated it into your space.
Pinterest: Pin your favourite images from this blog to your outdoor living inspiration board on Pinterest. Create your dream outdoor oasis, one pin at a time.
By sharing your experiences and inspiration, you not only help others discover the beauty of outdoor immersion but also become part of our Outdoor Immersion community. Together, we can transform outdoor living into an art form.