Transform Your Backyard with the Gardeon 7PC Sofa Set: The Ultimate Outdoor Furniture Lounge Setting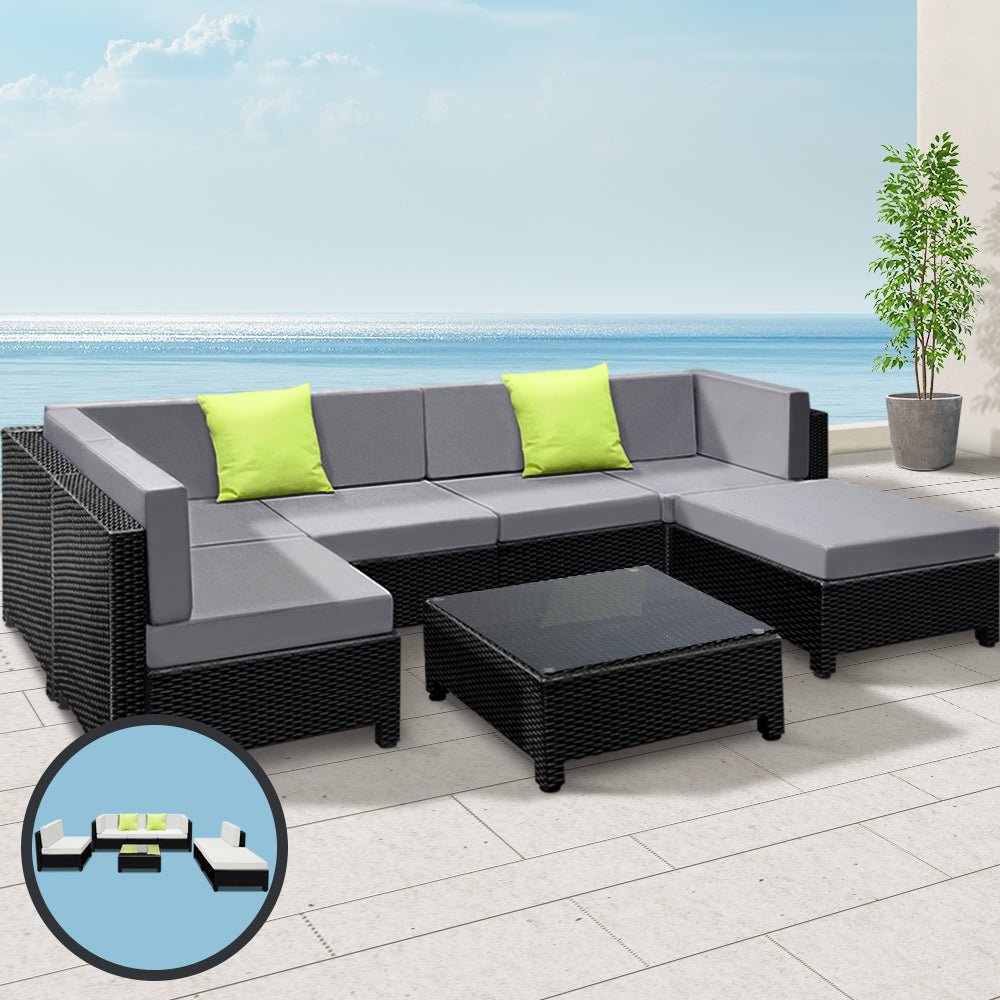 Introduction: Imagine sipping your morning coffee on a sun-drenched patio or hosting a lively outdoor gathering with friends in your beautifully designed backyard. With the Gardeon 7PC Sofa Set from Outdoor Immersion, this dream can become a reality. In this blog, we'll take you through the remarkable features of this outdoor furniture set that's been flying off the shelves, and how it can be the key to transforming your outdoor space. Get ready to give your backyard a complete makeover with this stylish yet affordable outdoor furniture set.
Unparalleled Quality: At Outdoor Immersion, quality is our top priority, and the Gardeon 7PC Sofa Set is no exception. Crafted with a heavy-duty aluminium frame and UV-resistant PE wicker, this set is designed to withstand the elements and last for years. You can trust that your investment will be well worth it, as this furniture set boasts amazing durability and resilience against wear and tear.
Comfort Redefined: Outdoor living should be synonymous with comfort, and that's precisely what this set delivers. The plush seat cushions are padded with high-density foam, ensuring you and your guests experience luxurious comfort while lounging. Furthermore, the weather-resistant cushion covers keep your furniture looking pristine, even in inclement weather.
Stylish Design: The Gardeon 7PC Sofa Set isn't just about comfort and durability; it's also a style statement for your outdoor space. The set includes a matching square coffee table with a tempered glass top, adding an elegant touch to your patio. The sleek black frame combined with the stylish grey cushion covers creates a modern and inviting atmosphere that's perfect for any outdoor setting.
Versatility at Its Best: What sets this outdoor furniture set apart is its versatility. With the Gardeon 7PC Sofa Set, you can easily customise your outdoor seating arrangement. Whether you want to create an L-shaped sofa for an intimate gathering or spread the chairs around your backyard to accommodate more guests, the choice is yours. You can adapt and arrange the set to match your vision for the perfect outdoor experience.
Bonus Beige Seat Covers: As an added bonus, when you purchase the Gardeon 7PC Sofa Set from Outdoor Immersion, you'll receive an extra BEIGE seat cover set at no additional cost. This means you effectively get two sets of differently coloured furniture for the price of one! The flexibility to switch between colours allows you to update your outdoor decor to suit any occasion or mood.
Cushion Cover Care Instructions: To ensure the longevity of your outdoor furniture, follow these simple care instructions for the cushion covers:
Cold hand wash
Do not bleach
Do not dry-clean
Do not tumble dry
Wash with similar colours
Specifications:
6 seater set
Frame colour: Black
Seat & back cushion colour: Grey
Throw cushion colour: Lime green
Refer to the gallery for dimensions
Note: Simple assembly is required.
Number of packages: 5
Package Content:
3 x Single Sofa
2 x Corner Sofa
1 x Ottoman
1 x Corner Table with tempered glass top
6 x Seat Cushion
6 x Back/Side Cushion
2 x Throw Cushion
1 x Beige Seat Cover Set
1 x Grey Seat Cover Set
> SHOP NOW! <
Conclusion: The Gardeon 7PC Sofa Set from Outdoor Immersion is a game-changer for your outdoor space. Its exceptional quality, luxurious comfort, and versatile design make it the perfect addition to your backyard. Don't miss the opportunity to get two sets of differently coloured furniture for the price of one! Transform your outdoor living area today with this exquisite outdoor furniture lounge setting. Your dream outdoor space is just one click away.